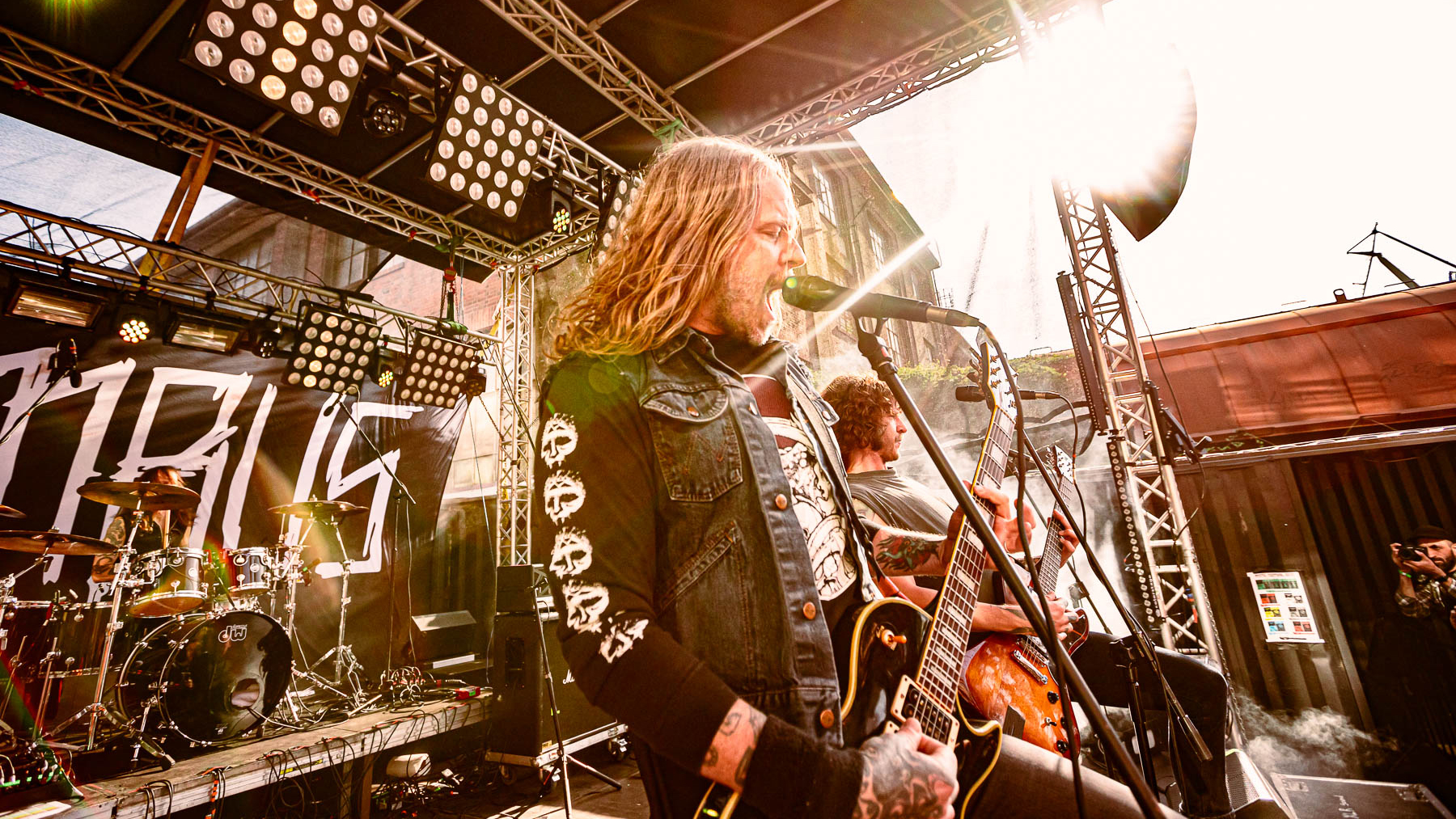 As the sun rises on the fourth and final day of the Mystic Festival, I find myself in a curious state of happiness and exhilaration. Yet, fatigue fails to dampen my spirit; it's been a marathon of musical ecstasy that my body gladly endure. Surprisingly, my legs are holding up better than expected, free from the agony of past festivals. And, thankfully, this year has spared me the dreaded festival sickness that haunted my memories. The weather has gifted us with perfect conditions throughout the four incredible days of this festival. It's safe to say that Mystic Festival has given me the most unforgettable experiences as a photographer
But before I leave the festival for a good night sleep, let's enjoy few more concerts. The day is packed with a lineup that tantalizes the senses and fuels our hunger for brilliant Metal music. Each band poised to leave an indelible mark on this final day.
I arrived just in time for the first concert of the day in Park Stage, the crowd was already dense, buzzing with excitement as the gig was near. Among them, a dedicated legion of die-hard Wolfheart fans, determined to be as close to the stage as possible. Led by the visionary Tuomas Saukkonen, their atmospheric symphonies and bone-crushing riffs transport us to the heart of a dark and enchanting musical experience, it's a mesmerizing trip that keeps us hooked. The day couldn't start better.
Then, on the Desert Stage, we brace ourselves for the Swedish Heavy Metal powerhouse known as Bombus. Their explosive energy radiates like a supernova, capturing our attention from the first chord. It was an exciting performance, loud, electric, that ignite a wildfire of devilish Punkish Heavy Metal within the crowd. To be honest, it was one of the best performance in the Desert Stage during the festival, and the level was very high. With titles like "Let Her Die" and "Human Beings", I was blown away.
But no time for me, Bury Tomorrow was already calling on the Main Stage. The British Metal-core warriors gave their best with an aggressive performance that captivate us. As I stood here, trying to capture the essence of the band, the electric presence of Bury Tomorrow's lead singer crackled through the air like a live wire. With boundless energy coursing through his veins, he commanded the stage with a raw intensity that ignited the crowd's primal instincts. The day kept giving on great gigs. I couldn't wait for more.
Back to the Park Stage, my camera in hand and my reporter instincts kicking into high gear. As a dedicated photographer and journalist, my mission to you readers is to capture the essence of each performance, which, honestly is quite impossible to achieve. So choices have to be made. And this year I made a deliberate decision to focus on the three outdoor stages. With limited time and energy, I set my sights on these three where the open air carried the echoes of music, and the atmosphere crackled with raw energy. It was a calculated gamble, but one that promised to deliver the most immersive and visually stunning experiences.
So I hurried from stage to stage, feeling the adrenaline coursing through my veins. Each stage held its own unique charm, its own allure that beckoned me closer. The outdoor stages, in particular, seemed to possess an untamed energy, an unbridled spirit that resonated with both the performers and the audience.
The journey was far from easy, and the choices I made meant missing out on some incredible acts. But as I stood amidst the vibrant crowds, feeling the pulse of the music reverberate through my being, I knew that I had made the right decision.
I need to ad that confined spaces packed with a large crowd tend to make me anxious. However, armed with my camera, a sense of security and peace washes over me. I have a purpose. The high numbers of people at B90 and Drizzly Grizzly did stir a slight unease within me. On the contrary, being outdoors brings me a profound sense of tranquility. The open space, fresh air, and wide expanse of the outdoor stages create an atmosphere where I can truly feel at peace.
It was time for yet another captivating performance on the Park Stage, this time by the French band Alcest. I finally had the privilege to witness them live. They have an unique genre, a remarkable fusion of aggressive Black Metal and Shoegaze. There is something distinctly French about their performance, a certain je-ne-sais-quoi that set them apart. Alcest excelled at their signature style, delivering illusions infused with depth & melancholy, haunting melodies, and transcendent vocals. It was unreal the emotions that emanated from their songs.
After a quick run to see Saurus on the Desert Stage, back again to the Main Stage for Dark Angel. The American Thrash band unleashed another epic gig. Lightning-fast riffs, intense aggressive drumming, great stage presence, they had no problem to reignite the flames of the golden age of thrash to the younger generation present in the crowd. No surprises, but enjoyable concert. It was fast paced and loud.
The Park Stage welcomes the Swedish masters of musical complexity, Meshuggah. I told you, the day had a lot to give. And Meshuggah gave us a lot of musical and visual pleasure. I have read prior to the festival, that Meshuggah is notorious for their opulent light shows that add an extra layer of grandeur to their performances. That is still an under statement. Their light-show is part of the experience, they create their own universe, and the visuals are a complete part of it. As I photographed them, I felt happiness, knowing that I experienced something special with them.
As the night fell upon us for one last time this year, I headed to see Mad Sin again. I knew I was in for a treat. It was just as wild and exhilarating as last year's gig. A high-octane performance.
And now, my fellow festival survivors, we have arrived at the pinnacle of this odyssey. Gojira takes their rightful place as the closing guests on the Main Stage. The French progressive metal maestros gave us a cataclysmic storm of sound. It was a long awaited concert after seeing them few years back in B90. It was pure emotion, a true spectacle, an explosion of sensations. They are really apart from the rest of the metal bands we saw during Mystic. And like I wrote earlier, you know they are french. That little something, that little touch, there is no doubt about it. I stayed for the whole concert. I was fulfilled. I left my camera and enjoyed the whole show. I was happy.
Time to pack, and head for a taxi. But not before seeing Doodseskader. The duo from Belgium gave us a raw performance that was perfect for a closing concert.
Mystic 2023 ended with them for me. And as the final notes reverberate through the air, a potent mix of exhaustion and euphoria washes over us. The Mystic Festival has left an indelible and incredible mark. Until we meet again, dear friends, keep the spirit of music alive and let the rhythms guide your souls.
See you next year Mystic!
Enjoy the pictures and do not hesitate to like, share or promote our work.