For a first EP, Parpaing Papier, A french Punk-Rock band from Nantes – France, scored a nice try. Very promising for the future.
Parpaing Papier, it's Martin Hallier who had this idea of a new band in 2018. And after many happy encounters, the band was born in January 2019. Fast forward and in June of the same year, the first EP "Tester des Casques" was out on streaming platforms. And right now available on CD.
With Fabrice (vocal & bass guitar), Corentin (vocal & drums), Clothilde (vocal & guitar) and Martin as the lead singer, Parpaing Papier offer us a restless Punk-Rock with delirious lyrics.
The leading song is very catchy. The video is funny. It's really 4 minutes of happiness. And even if you don't understand French, give it a try. You won't regret it. Like for the rest of the EP. But 19 minutes is too short, so we can't wait for the album.
They were kind to answer to few questions, a chance for you to know a bit more about them.
We Shoot Music: Hello, We Shoot Music, a webzine about Music in Poland (Gdansk), rather oriented Rock & Metal.
Martin Papier: Hello everyone in Poland, I'm Martin Papier, Parpaing Papier's singer
WSM: First, Thanks to talk to us. I love your EP, it's a real pleasure to listen to it.
MP: Thanks! It's quite a surprise our music is coming to you but it is a great feeling.
WSM: How would you introduce yourselves to the people of Poland who know absolutely nothing about the french musical punk/rock scene? Here, the most well known french band is Gojira amongst metalheads and rockers.
MP: The french punk/rock and hardcore scene is really talented and various. French bands are really good to fusion some styles together and put something good out of it.
Bands like Tagada Jones or Lofofora are pretty good examples. Mass Hysteria also, and I don't forget the best of all : Les Wampas ! I'm really into this scene since I was a child, begins with the legendary band "Bérurier Noir". I had two cool bands myself in this scene : KIEMSA and Dancefloor Disaster, check it out! 🙂
WSM: What is the history of Parpaing Papier?
MP: Literally it means "Cinderblock Paper". Hard as a Cinderblock, Thin as some Paper.
Here is our catch phrase, we're a 4-piece band from Nantes, France. Born in 2019 around me plus Clothilde (guitar/voice), Fabrice (bass/voice), Corentin (drums/voice).
We're doing fierce punk-rock-pop, in love to destruction, all french singing.
WSM: Who is composing the songs? Where does your inspiration come from?
MP: Mostly myself, but it really became a collective work now. Inspiration comes from naïve dystopia, the end of the world with a fairy tale universe sometimes.
WSM: What about the picture of the EP? What came first, the song or the picture?
MP: The picture is inspired by a 1912 picture called "Testing Helmets" (which is "Tester des Casques" in french). This photo talked to me instantly, we really feel the energy of it. So we decide to remake the scene of this picture and do our very own version. The artwork is from our friend Simon Grumeau, check his amazing work!
(to find it just tape « testing helmets » in google images if you want to show the difference 😉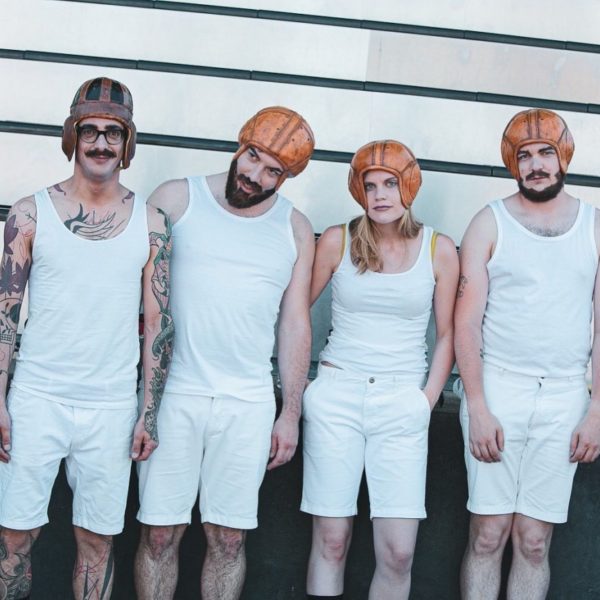 WSM: The EP is only 19 minutes long. I presume your concerts last longer. What else do you play?
MP: Yes we're playing and hour or so right now! We have already 4 new songs. There is new ambiances, some wild stuff, some pop, some power-pop.. We're pretty excited about it and really looking forward to record it, maybe next year!
WSM: Is there any chance that you will come to Poland? We have some great rock festivals over here. Pol'and'Rock Festival (a free festival, which the current government try to shut down), and a new one next year Mystic Festival (Metal)
MP: We would love to! We're actually talking about coming to Germany next year so why not push the road to Poland? Alright promoters and festivals: please invite us!
WSM: What are your projects now?
MP: We're playing in Hong-Kong and Macao in November for our very first gigs in Asia, it is a great opportunity due to our friends from the Hong-Kong's band "Shumking Mansion" we can't wait to be in the plane!
WSM: Last concert you attended & loved?
MP: The Living End at the last Hellfest open air. They're an amazing Australian punk-pop band with a crazy singer/guitar player with outstanding skills. 3-piece band with a double-bass and all members singing: huge band in Australia, love them since 1999 and it was the very first time I was able to see them, they don't come so often in Europe. Check them out! 🙂
WSM: Thanks for your time, and we are looking forward you LP.
MP: My pleasure guys! Merci to the team and everyone who reads this!